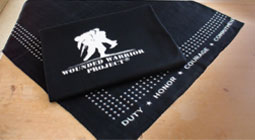 The war in Iraq and Afghanistan has never been popular and has created turmoil, unrest and even violence in our Country as protest. You do not have to agree with the war to support our military men and women. We have thousands and thousands of wounded warriors that need our help and they have never asked anything from any of us yet they have offered themselves to protect you and me each and every day so that we can be free from the fears that they face every day!
My daughter was in the Army for 3 years and thank God she was never forced to serve over there. I have the utmost pride, thankfulness and appreciation for the men and women who volunteer to put themselves in harm's way to keep this Country safe. After much research, The Wounded Warrior Project is where we give our charity money and I think if you see how much they do for not only the wounded veterans but for their families as well, you may want your giving to go here too.
They help with medical expenses including equipment that is needed, they offer support and counseling to the warrior and his family, they offer retreats for the caregivers to offer them support, knowledge and much-needed relaxation. Have you ever cared for someone who needs constant attention and medical care around the clock? It's mentally and physically draining and the families of our wounded warriors need help too!
You can donate monthly at just $19 a month or give a one time donation. All of this money goes to the programs for the veterans and they and their families are not charged for anything.  This is a program that is near and dear to my heart and we choose the monthly support. These men and women are the most courageous and most deserving of this program. I can't imagine what it is like to stand in the line of enemy fire and not back down and thanks to these soldiers, I will never have to know! For the first time in my life time we have seen our young men and women killed on the battlefield and have seen them come home disfigured, with brain injuries and amputations. Let's help these brave men and women with our support of them!!